Climate:
Spring months in Germany are a bit on the chilly side, but across the country from May through September conditions are generally warm and pleasant with mostly sunny skies. Fall temperatures are lower with moderate rainfall, but nevertheless a wonderful time to visit the country.

The winter months (though colder and wet) remain mostly mild in the west, while in the east conditions are much colder and way below freezing temperatures are commonplace.

Snow fall in the higher mountains of the south and across Bavaria can be extremely heavy, but in general terms accumulation amounts in the central uplands are light and quick to melt.

Countrywide in summer high temperatures average in the mid-70's, while winter months average in the low 40's. Precipitation is possible throughout the year, with the most rain falling in the summer months

Current Weather Conditions:
In these selected cities...






BERLIN

HIGH TEMPERATURES ( Fahrenheit/Celsius )

(Jan) 42/5 (Feb) 35/1 (Mar) 45/7 (Apr) 60/15

(May) 65/18 (Jun) 71/21 (Jul) 75/23 (Aug) 70/20

(Sep) 70/20 (Oct) 61/16 (Nov) 45/7 (Dec) 38/3

LOW TEMPERATURES ( Fahrenheit/Celsius )

(Jan) 34/1 (Feb) 27/-3 (Mar) 32/0 (Apr) 40/4

(May) 49/9 (Jun) 53/11 (Jul) 59/15 (Aug) 55/12

(Sep) 52/11 (Oct) 46/7 (Nov) 36/2 (Dec) 31/-1


BONN

HIGH TEMPERATURES ( Fahrenheit/Celsius )

(Jan) 44/6 (Feb) 38/3 (Mar) 51/10 (Apr) 60/15

(May) 65/18 (Jun) 73/22 (Jul) 74/23 (Aug) 69/20

(Sep) 71/21 (Oct) 64/17 (Nov) 48/8 (Dec) 41/4

LOW TEMPERATURES ( Fahrenheit/Celsius )

(Jan) 34/1 (Feb) 29/-2 (Mar) 38/3 (Apr) 42/5

(May) 46/7 (Jun) 53/11 (Jul) 57/13 (Aug) 53/11

(Sep) 52/10 (Oct) 48/9 (Nov) 38/3 (Dec) 33/0


MUNICH

HIGH TEMPERATURES ( Fahrenheit/Celsius )

(Jan) 38/3 (Feb) 32/0 (Mar) 45/7 (Apr) 57/13

(May) 65/18 (Jun) 72/22 (Jul) 74/23 (Aug) 69/20

(Sep) 68/19 (Oct) 59/15 (Nov) 41/5 (Dec) 33/0

LOW TEMPERATURES ( Fahrenheit/Celsius )

(Jan) 24/-4 (Feb) 19/-7 (Mar) 26/-3 (Apr) 40/4

(May) 45/7 (Jun) 54/12 (Jul) 56/13 (Aug) 53/11

(Sep) 50/9 (Oct) 41/5 (Nov) 30/-1 (Dec) 25/-4
Germany Photographs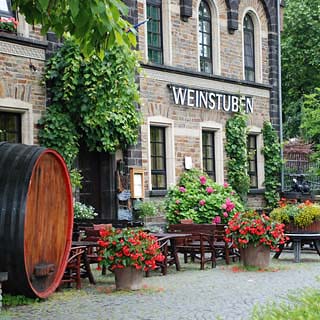 Wine tavern, Koblenz, Germany
Germany states & their capitals