1 | 2
Description (Page 2)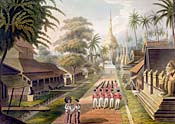 In the colonial era, Rangoon was named capital of Burma, becoming an important port between Calcutta and
Singapore
.
Civil unrest prevailed through the
British
ruling, and violent protests were carried out for decades.
During the Second World War, the region of Burma became a major battleground, completely devastating the country, and causing the British administration to break down; thus allowing Burma their chance at gaining independence in 1948.
Since 1962, the military has controlled the country, even failing to turn over the governmental power to the opposition party that won a landslide victory in the 1990 general election.
On November 6, 2005, the administrative capital was moved from the city of Rangoon to the newly built city of Nay Pyi Taw. Much of this city is still under construction, and is set to be completed sometime in early 2013.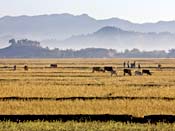 The country of Burma is replete with natural resources, but growth and progress are stifled by strict government controls and serious financial mismanagement.
In 2008, a "discipline-flourishing democracy" was promised, and a new constitution was drafted. General elections were held in 2010, and the military-backed Union Solidarity and Development Party was victorious.
A series of reforms moving toward liberal democracy began post-election, however the motives of all reforms are still debated and uncertainties continue to exist within the country.
The beautiful and mysterious city of Rangoon is the principal port, and tourists are attracted by the city's large number of ancient golden pagodas (monuments to Buddha) that still stand.