Over 90% of Kyrgyzstan is dominated by massive, rugged mountain ranges, including the Alai, Kirghiz and Tien Shan, and their associated valleys and basins. Large areas of those mountain regions are covered by glaciers.
A few flat areas (lower valleys) are found in the north and far southwest, but almost 35% of the land is higher than 9,842 ft. (3,000 m) above sea level.
Kyrgyzstan's highest point is Jengish Chokusu which peaks at 24,406 ft. (7,439 m).
Dozens and dozens of rivers flow from the upper reaches of the mountains; the most significant ones include the Al-Say, Chu, Kara Daryya and Naryn. Issyk-Kul is the world's second largest alpine lake.
Kyrgyzstan Photographs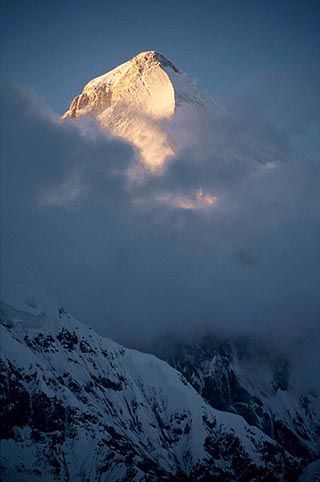 This is Khan Tengri, a notable peak in the Tien Shan mountain range, on the Kyrgyzstan border with Kazakhstan. It stands at (6995m). The country's highest peak, Jengish Chokusu, is but a few meters higher. Photo by Simon Garbutt.
This page was last modified on April 7, 2017.