Devil's Islands, French Guiana
The Devil's Islands archipelago consists of three small islands, located just a few miles off the coast of French Guiana. The group includes Ile du Diable (Devil's Island), Ile Ste-Joseph and Ile Royale.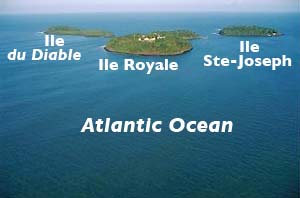 Their original name was the Triangle Islands, but after decades of proving hazardous to shipping, their name was appropriately changed to the Devil's Islands, and how prophetic that name would later become.

Known throughout the modern world by the brutal history of the 19th century French penal settlement that was located here, it was Ile du Diable (or Devil's Island itself) that perpetuated that story across the planet, especially with the release of a novel and movie called Papillon. Although a fictional tale, it contained accounts of the difficult daily life gathered from actual surviving prisoners.

The island's most famous prisoner, Captain Dreyfuss, a French army officer falsely accused of espionage, spent over 5 years on Devil's Island itself. He was finally pardoned and awarded the French Legion of Merit. Regardless, his years of imprisonment and the fate of thousands of others have made the Devil's Islands an unfortunate part of French history.