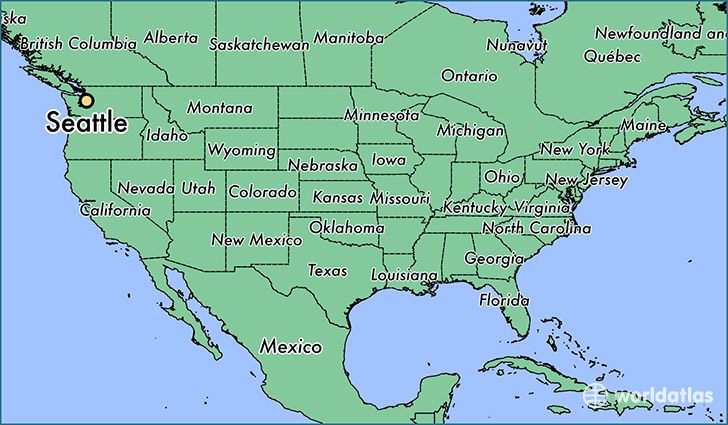 Seattle is a city found in Washington, The United States Of America. It is located 47.61 latitude and -122.33 longitude and it is situated at elevation 56 meters above sea level.
Seattle has a population of 608,660 making it the biggest city in Washington. It operates on the PDT time zone.
Quick facts
Description
Positioned between Puget Sound and Lake Washington, the dynamic city of Seattle is the most populated city in the State of Washington.
Seattle's Puget Sound is a body of ocean water that provides access to the Pacific Ocean through the Strait of Juan de Fuca. It contains numerous channels, estuaries, inlets and islands - including the San Juan.
Similar to Boston, Massachusetts, Seattle is virtually surrounded by water, and its waterfront is alive with activity. Spectacular vistas are everywhere including the Olympic Mountains, and the snow-covered peak of Mt. Rainier in the Cascade Mountains to the southeast.
Frequently cloudy with rain in the forecast, most locals and visitors could care less about umbrellas and shelter as trendy Seattle is home to many significant attractions, including the Olympic Sculpture Garden, Seattle Art Museum, Space Needle, Pike Place Market, and dozens of entertainment and shopping venues. Note: In Seattle most of the rain falls in the winter months, and perfect weather is common, June - August.
World renowned as the birth place of grunge music, tasty coffee served in innovative shops, and as a corporate base for Boeing, Microsoft and Starbucks, Seattle is a major cultural, economic and educational center, and a fabulous place to live. Frankly, it's a must visit on any Washington vacation

Did you know?
The nation's highest percentage of college graduates live in Seattle.

The Great Seattle Fire in 1869 destroyed 25 entire city blocks downtown. No human lives were lost, but over 1 million rats were killed.

Seattle's houseboat population is the country's largest at almost 500!

The Farmer's Market at Pike Place Market is the longest continuously operating market of its kind in the U.S. (since 1907)!
ADDITIONAL WASHINGTON CITY PAGES:
Attractions
Take a look at the Seattle map for some great places to visit while in Seattle!

Maps
This page was last modified on October 2, 2015.