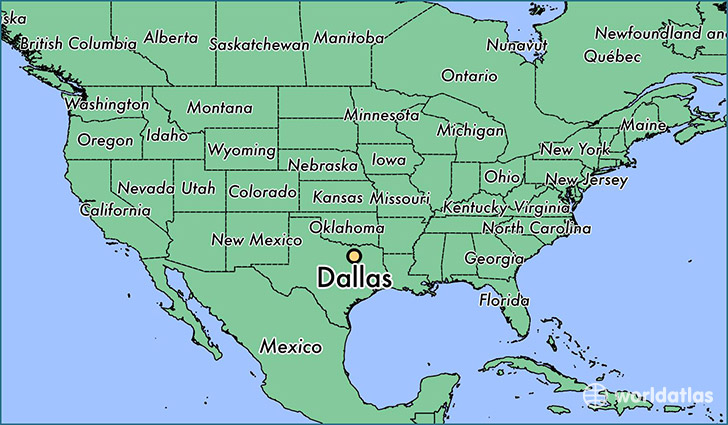 Dallas is a city found in Texas, The United States Of America. It is located 32.78 latitude and -96.81 longitude and it is situated at elevation 139 meters above sea level.
Dallas has a population of 1,197,816 making it the 3rd biggest city in Texas. It operates on the CDT time zone, which means that it follows the same time zone as Houston.
Quick facts
Description

The city of Dallas is a brash, stylish and vital place. The third largest city in Texas and the center of the state's largest metropolitan area, Dallas presents a unique and infectous invigorating attitude.

This city serves up a rich mix of cultures, thriving culinary experiences of barbecue, authentic Mexican and Tex-Mex dishes, world class art districts, western ranch tours, and hearty Texan traditions. Dallas is a big American dream, complete with a rowdy history and a passionate thirst for life.

Founded in 1841 on the banks of the Trinity River, Dallas was formally incorporated as a city in 1856. This sparkling modern city is renowned as a shopper's paradise with more shopping centers per capita than any other city in the United States.
Did you know?
The city of Dallas maintains and operates 406 parks on 21,000 acres of land.
Highland Park Village opened in 1931 as the nation's first planned shopping center and was recently designated a National Historic Landmark.
According to industry magazine Amusement Business, the State Fair of Texas, held annually in Dallas, is the largest state fair in the US by annual attendance.
Attractions
Dallas Arboretum
Minutes from downtown, the Dallas Arboretum is nothing short of pure Zen on 66 acres of winding, beautiful gardens, fountains and small hills, all located on the edge of White Rock Lake. In the spring, over 2,000 azaleas bloom in the Dallas Arboretum's signature Historic DeGolyer Gardens, a heaven compete with sculptures and a gazebo. The Arboretum hosts Friendship Teas, a children's Storybook Playhouse, a summer concert series, and fields of brilliant roses, tulips, local and exotic flora.

Dallas Cowboys
Dallas, Texas is a town of fanatic football fans, sports bars, and proud traditions. One of the most successful teams of the modern era, the Dallas Cowboys have won five Super Bowls and eight conference championships. Based in Dallas, this NFC East team of the National Football League (NFL) has won a huge fan base nationwide.

The Dallas Cowboys, with their distinctive uniforms, impressive success and famous Dallas Cowboys Cheerleaders, is a magnificent team generating straight sell-outs for their games since 1990. Get your Cowboys tickets very early, enjoy the game at a rowdy Dallas sports bar, or check out one of the excellent college teams in the area for a true Texas football experience!

The Sixth Floor Museum
The Sixth Floor Museum is located on the sixth and seventh floor of an early 20th century warehouse known in 1963 as the infamous Texas School Book Repository. Located in Dealey Plaza National Historic Landmark District, over 6 million people have visited this most popular of Dallas attractions.

The museum surrounds the site where Lee Harvey Oswald fired his deadly shot on November 22, 1963, assassinating President John F. Kennedy. The Sixth Floor Museum is a dedication to everything related to both the political legacy and the assassination of JFK which still haunts the minds and imaginations of so many Americans to this day.
Maps
This page was last modified on October 2, 2015.