Where is Miami Beach, FL?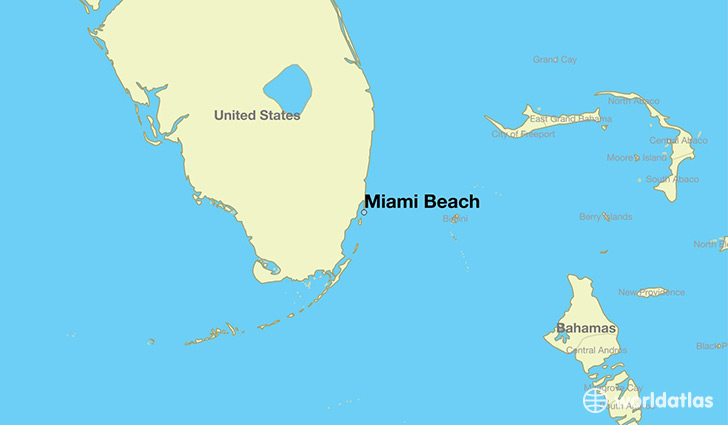 Miami Beach is a city found in Florida, The United States Of America. It is located 25.79 latitude and -80.13 longitude and it is situated at elevation 10 meters above sea level.
Miami Beach has a population of 87,779 making it the 25th biggest city in Florida. It operates on the EDT time zone, which means that it follows the same time zone as Jacksonville.
Quick facts
Description
Miami Beach is known for its upscale, posh lifestyle, designer boutique shopping, rich retirees and luxury beachfront apartments. At the same time, Miami Beach is home to the neighborhood of South Beach, renowned in recent years as a top Spring Break location with a wild and crazy party scene. Somehow, Miami Beach manages to balance these very different cultures with a style and grace all its own.
The city was incorporated in 1915. In the early twenties, the Miami Beach boom began when business magnates J.C. Penney and Harvey Firestone made this Florida haven home.
Sultry Miami Beach, with an average daily temperature of 76 degrees, is home to one of the largest snow skiing clubs in the United States!`
ADDITIONAL FLORIDA CITY PAGES:
Did you know?
Miami Beach started with the purchase of South Beach in 1870 by Henry and Charles Lum where they started a coconut farm, dredged Biscayne Bay, and created the island city's first causeway.
Fashion Icon Gianni Versace's Mansion on Ocean Drive is the most photographed home in Florida. The mansion steps are where Gianni Versace was notoriously murdered in 1997 by a psychotic with obsessive fantasies of romance and modeling.
Miami Beach has the largest collection of Art Deco architecture in the world with over 800 original buildings from the 1920's and 30's.
Sultry Miami Beach, with an average daily temperature of 76 degrees, is home to one of the largest snow skiing clubs in the United States!
Attractions
South Beach Florida
Welcome to the 24/7 party central paradise known as South Beach! Long stretches of hot, sandy beaches lined with tropical drink stands and lots of skin are where it's at for this increasingly popular Florida Spring Break destination.

South Beach is known for its young and diverse community and some of the largest, most outrageous night clubs in the world. Fashion shoots and movie filming are common here and an eclectic mix of vintage cars, swimsuit models, roller bladers and bikers are always out and about in South Beach.

Miami Beach Art Deco District
Art Deco originated in Europe in the 1920's and quickly made its way to the United States to settle in fashionable Miami Beach. The district is home to many small Art Deco hotels, lovingly preserved as part of Miami Beach history. The Art Deco architecture in the district uses bright pastel colors, stark lines and zig zag forms inspired by Egyptian décor unearthed with King Tut's tomb. Shops abound with both replicas and original works of Art Deco jewelry and art.

Miami Beach Botanical Gardens
The Miami Beach Botanical Gardens are an oasis of lush tropical foliage, a kaleidoscope of colorful flowering plants, and lovely water gardens. Visitors can spend hours wandering the Gardens, or enjoy guided tours led by horticultural experts. The Botanical Gardens host all kinds of events, from elegant luncheons among rare tree specimens to charitable events to massages in this outdoor nature's paradise.
Maps
This page was last updated on October 2, 2015.