Current Quiz


Previous 100 Winners


Rules




From Fort Lauderdale, Florida, I've just posted a new Geography Quiz on 04/15/14 at approximately 08:00AM EDT. A $100.00 cash prize will be paid to the person who submits the first correct answer, and anyone (worldwide) can participate.






Clue #1 (04/15/14)



This beautiful place was first put on the map by a very accomplished man, that in the end, after notable successes around the planet died homeless, and reportedly killed himself.
(Matthias Zurbriggen was one of the great 19th-century alpinists and mountain guides. He climbed throughout the Alps, the Andes, and the Himalayas. He made a considerable number of first ascents, the best known of which is Aconcagua, the highest peak in the Americas, which he climbed alone in 1897)




Clue #2 (04/15/14)



For some reason (maybe for pride) it remains part of a misunderstanding (mostly in Asia), as its size (to some who don't read carefully) is commonly misstated, but in reality, as a part of an established list, it is not. So there!
(Fact: Aconcagua is the second highest of the Seven Summits, the highest mountains on each of the seven continents. Some people in Asia still feel that's an incorrect statement as there are several 8K peaks in Asia (including K2) - and Aconcagua, isn't even a 7K peak. Oh well, to bad, so sad)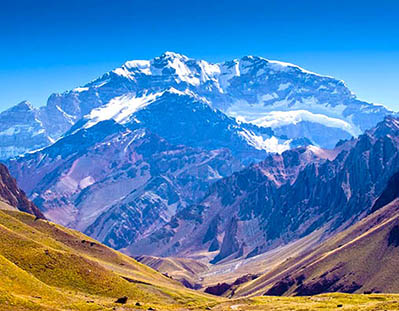 Aconcagua, Argentina


The first correct answer received was submitted by:


Kent Stevens, Allen, Texas USA





Follow the daily Geography Quiz on Facebook.com or Twitter.com and receive an extra hint when a new quiz is posted.


Here you can win $100 cash for the First Correct Answer to our Free Online Geography Quiz Contest! Be clever and be quick, as you can win the money for being the best geography student in your class, the most informed employee in your office, or the smartest member of your family!



Worldatlas.com has been awarding $100 cash prizes for correct answers to our geography trivia contest for years. Hundreds of lucky geography quiz winners have enjoyed our free online contest and we'd love to add you to that special list.



On the first day of a new geography quiz we post two clues. Follow the geography contest rules and send us your submission as soon as you think you know the answer. Good Luck!



If no one sends us the correct quiz answer within the first 24 hours (which seldom happens), we start a new quiz the next day (including Saturday, but not on a Sunday) offering you another chance to win $100. So, have fun, and be informed with the Worldatlas.com Geography Quiz.