Win $100 Cash! - Daily Geography Quiz, Free Contests Online, Win Money for Geography Trivia
Current Quiz
Previous 100 Winners
Rules

Three days before the Quiz takes a summer vacation,
I've just posted a new Geography Quiz from Key Largo, Florida, on 07/18/14 at approximately 09:00AM EDT.
A $100.00 cash prize
will be paid to the person who submits the first correct answer, and anyone (
worldwide
) can participate.

Clue #1
(07/18/14)
Very small in size and population, it's colossal, mammoth, monumental and even titanic-like when one considers the surrounding landscape and stunning views. Even an esteemed travel review source agrees.
(Geiranger (the town) is home to some of the most spectacular scenery in the world, and has been named the best travel destination in Scandinavia by Lonely Planet)
Clue #2
(07/18/14)
Under a constant likelihood of impending danger, it remains a very popular tourist destination for traveler's worldwide, and I must say, it's one of the most attractive places I ever visited.
(About 180 cruise ships stop here during a very short tourist season. Several hundred thousand people pass through every summer, and tourism is the main business for the 250 people who live here permanently. A little known fact is that Geiranger is under constant threat from a mountain to its west named Akerneset. Some experts say that it could erode (or collapse) into the fjord and the resulting tsunami could destroy downtown Geiranger; let us hope not)
Geiranger, Norway

The first correct answer received was submitted by:

Peggy Smith, Medford, Oregon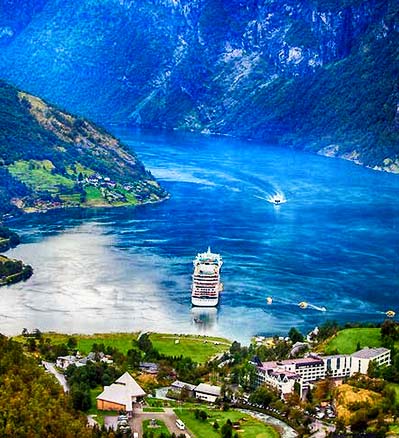 Geiranger and Geiranger Fjord