Economics
World's Largest Exporters Of Arms
The United States and Russia are together responsible for over 50% of the global export of arms.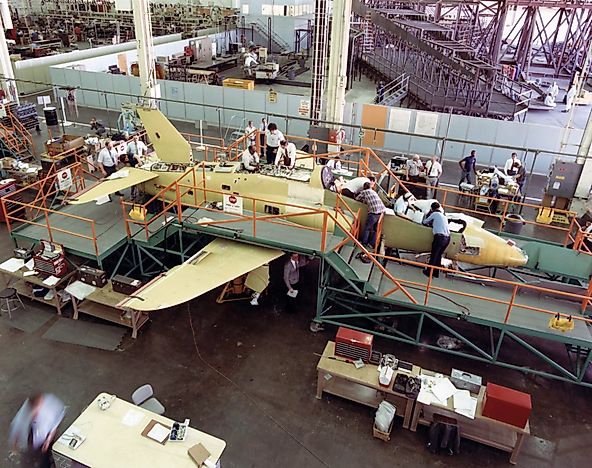 The global arms industry is a massive business with trillions of dollars being traded annually. In 2015, global expenditure on weapons was estimated at $1.68 trillion. Emerging economies and territorial disputes have largely influenced the increase in trade of arms over the years. Industrialized nations have been on the forefront of exportation of weapons. Improved technologies have led to the innovation of hi-tech arsenals for sale to countries lacking the resources and capabilities to manufacture their own. The US and Russia are together responsible for over 50% of the world's export of arms.
World's Largest Exporters Of Arms
The US
The US is the world's top exporter of arms and assumed a market share of 33% between 2011 and 2015. With factors such as size and capabilities to its advantage, the US is home to some of the top arms manufacturing companies. The top two defense contractors in the US are ranked top in the world. They are Lockheed Martin Corp. and Boeing Company. The sales generated from the exportation of arms from the US were $36.2 billion.
Saudi Arabia (10%) was the top customer of US arsenals followed by the UAE (9.1%). The US is increasingly facing competition especially from Russia and China, who through diffused technology are increasing their capacity to develop hi-tech arsenals.
Russia
Russia is the second largest exporter of arms taking up 25% of the global market. Russia embarked on improving its military strength after the fall of the Soviet Union and invested heavily in military defense. The top manufacturing companies in Russia are Almaz-Antey, United Aircraft, and Tactical Missiles Corporation. The industry employs 20% of the manufacturing sector's workforce. Russia's arms sales in 2014 amount to $8.84 billion. Russia has exerted its place in the global market through affordable hi-tech arsenals. The largest importers of Russia's arms were India, China, and Vietnam. India alone imported weapons worth $14.3 billion between 2012 and 2015.
China
China has experienced tremendous economic growth in the recent years and has invested heavily to boost its military defense capabilities. Most of China's companies are state owned. China North Industries Corp. is China's most prolific manufacturer of arsenals while Aviation Industry Corp. is the second largest company. Countries without the spending power to buy sophisticated weapons from US and Russia are turning to China as an alternative. China offers advanced weapons for a lower price, attracting poorer nations. Pakistan imports the most arms from China accounting for nearly 35% of the exported arms followed by Bangladesh, Myanmar, and Algeria.
France
France's export of arms was 5.6% of the world's total exports between 2011 and 2015. It sold $18 billion worth of defense equipment in 2015, an increase from $9.1 billion in 2014. The French government has shares in top companies such as Airbus and Thales group. These companies have the advantage of diversity in capabilities. They can manufacture weapons for use in air, sea, and land. This fact has established France as a manufacturer of highly specialized equipment. The main destinations for its exports are Saudi Arabia, UAE, Singapore, and Australia.
Other top countries claiming a market share of the global arms exports are Germany (4.7%), UK (4.5%), Spain (3.50%) and Italy (2.7%). These countries have domestic laws governing the export of arms.

Regulation of The Industry
Germany has a legal imposition against weapons shipped with the likelihood that they will be used for human rights abuses. The US requires potential exporters to apply for exporting licenses through the Departments of State, Commerce, and Treasury. International treaties such as the Arms Trade Treaty have been made in efforts to control the exportation of arms. The European Union, through the EU Common Position on arms export control, has established regulations to govern the countries in its region. There has been call, however, for an International golden rule to ban the export of arms that may be used to violate human rights.
World's Largest Exporters Of Arms
| Rank | Country | Share of Arms Exports (%), 2011-2015 |
| --- | --- | --- |
| 1 | United States | 33.00 |
| 2 | Russia | 25.00 |
| 3 | China | 5.90 |
| 4 | France | 5.60 |
| 5 | Germany | 4.70 |
| 6 | United Kingdom | 4.50 |
| 7 | Spain | 3.50 |
| 8 | Italy | 2.70 |
This page was published on July 26, 2016.

This page was last modified on April 25, 2017.