Travel
The World's Largest Airlines by Number of Passengers Carried
The following are the world's largest airlines in terms of the number of passengers carried.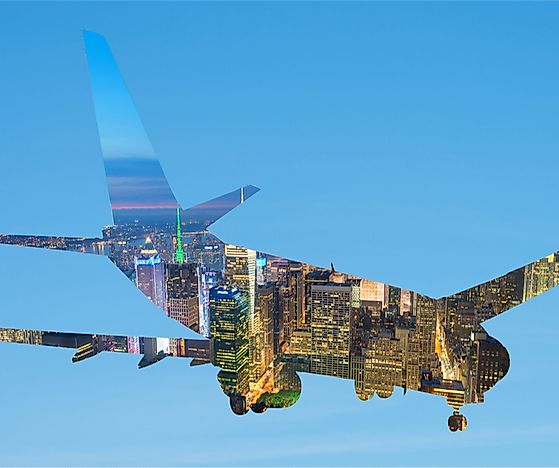 The last decade has been characterized by a steady growth in air travel. Several airlines have positioned themselves as the main players in air travel and preferred carriers throughout the world. While some airlines have limited their network to within a continent, others have extended their networks to cover all continents. But which airline dominates the world of aviation? Airlines can be ranked depending on several factors, such as fleet size, passenger count, revenue, freight size, number of countries served, distance covered, and asset value or market capitalization. Airlines may also be ranked according to the number of employees.
Largest Airlines by Number of Passengers
Carriers based in the United States hold the first three positions for the largest airlines by passenger counts. American Airlines takes the lead with more than 6,500 daily flights to over 330 destinations around the world. The airline carried more than 146.5 million domestic and international passengers in 2015, up from 87 million in 2014. The American Airlines is expected to dominate air travel in the coming years given its plans to increase its fleet size by over 100 aircraft. Southwest Airlines is the second largest airline by passenger count, carrying over 144.5 million passengers in 2015. Founded in 1966, Southwest Airlines has grown in fleet size and passenger numbers, and currently has a network of 101 destinations in 40 states. Delta Air Lines, with moire than 5,400 daily flights, carried 138.8 million domestic and international passengers in 2015. It has a network of 320 destinations in six continents.
The first non-American carrier is the China Southern Airlines, a Chinese airline established in 1998. It is the largest airline in China by revenue, fleet, and passenger size. China South Airlines operates over 2,000 flights to 210 destinations in 35 countries. In 2015, it was ranked 4th largest, having served 109.3 million passengers. China Eastern Airlines and Air China are also among the top ten largest airlines in the world. China Eastern Airlines is the seventh largest airline in the world, serving over 75 million passengers in 2015, while Air China is ranked 9th, serving 58.6 million passengers during the same period. The three top Chinese airlines are referred to as the "Big Three."
Ryanair is the largest European airline by the number of passengers flown and is the fifth largest in the world. It serves a network of 34 countries, especially in Europe, Africa, and the Middle East. Ryanair's largest bases are located in Dublin and London. In 2015, the airline served 101.4 million domestic and international passengers, up from 86.3 million in 2014. EasyJet is Europe's second largest airline. The UK based airline operates low-cost aircraft on over 800 routes to more than 30 countries. The carrier served over 70 million domestic and international passengers in 2015, up from 62.3 million in 2014.
Airline Rankings
Airlines are ranked by the International Air Transport Association (IATA). The ranking process considers several factors, including the demand for air transport, supply, and performance of the airline industry. According to a 2015 IATA report, the Asian-Pacific airlines carried the largest number of passengers due to the large domestic market and the fastest domestic passenger growth.
The World's Largest Airlines by Passengers Carried
| Rank | Airline | Passengers Carried, Thousands (Source: IATA, 2015) |
| --- | --- | --- |
| 1 | American Airlines | 146,530 |
| 2 | Southwest Airlines | 144,575 |
| 3 | Delta Air Lines | 138,842 |
| 4 | China Southern Airlines | 109,301 |
| 5 | Ryanair | 101,401 |
| 6 | United Airlines | 95,384 |
| 7 | China Eastern Airlines | 75,139 |
| 8 | EasyJet | 70,232 |
| 9 | Turkish Airlines | 60,198 |
| 10 | Air China | 58,661 |
| 11 | Lufthansa | 59,850 |
This page was published on July 19, 2017.

This page was last modified on August 1, 2017.