Society
The Most Populous Nordic Countries
With a population of 9,875,378, Sweden is the most populous Nordic country, followed by Denmark and Finland.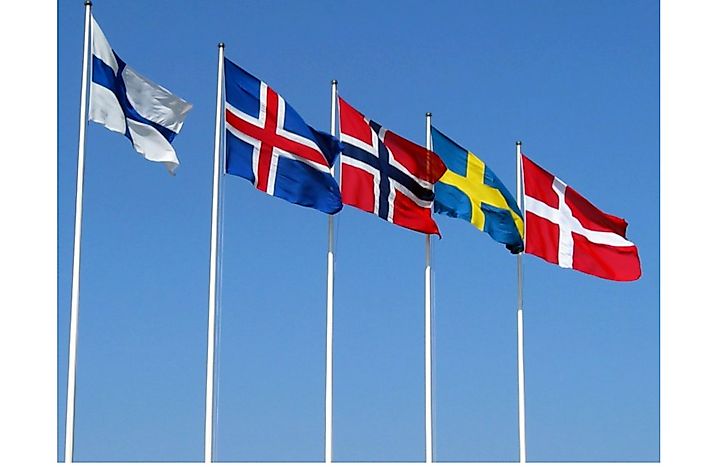 The Nordic Countries are the culturally and geographically grouped countries namely Denmark, Sweden, Finland, Iceland, Norway including the territories like the Faroe Islands, Greenland and Aland Islands. After the World War II, these countries emerged as economically developed nations and served as a model for the welfare state. They have a combined area of 3.5 million square km and have five time zones. However, though the countries are located in the northern region, they still they have a comparatively milder climate than other nations located at the same altitude as they have long coastlines with warm ocean currents influencing their climate.
Demographic Facts Related To Top Nordic Countries
Sweden tops the chart as the most populated Nordic country with a population of 9,875,378. It is followed by Denmark with a population of 5,707,251. Finland takes the third spot with a population of 5,488,543.
Sweden
Sweden is the 90th most populated country in the world, three biggest areas in the country include Gothenburg, Stockholm, and Malmo, and 85% of the population resides in the urban areas. They have varied culinary choices in food as falafel, hamburgers, pizza, Chinese cuisine, kebabs, etc. More than 85% people are the members of Church in Sweden but mostly attend the Sunday services. Public funding supports the art of artists like literature, dancing, painting, music, etc. It is an industrialized economy, and the purchasing power of the people living here is among the highest in the world due to a low rate of unemployment.
Denmark
In Denmark, more than 89% of the population is of Danish descent and the remaining people are stated to be the immigrants that include people from Western and Non-Western countries. They have a higher literacy rate and most of the people reside in urban areas. The country is also culturally strong as it has a perfect blend of media, painting, photography, sports, architectural designs, delicious cuisines, etc. It has high-income in the world and has 18th rank in terms of GDP per capita. The income inequality is relatively low and with its agricultural economy, the industrial sectors namely iron, chemicals, food processing, construction, etc. are developed.
Finland
Finland has an uneven distribution of population as 17 inhabitants per square kilometer, and a large section of people live in Helsinki Metropolitan area, which has Finnish-speaking people. It is a mixed economy with service sector at 72%, followed by production sector that is 31% and primary sector at nearly 2%. The cuisines are influenced by Sweden and Russia and Chinese food, pizzas, kebabs, etc. are gaining popularity in this area. The country is also secular though most of the people follow Christianity and immigrants from Western and Non-Western lands can be seen here.
Futuristic Demographic Composition Of Nordic Countries
The population of the Nordic countries is predicted to rise to 30 million by the year 2050. The high birth rates, increased life expectancy rates, and increased immigration pressures are believed to trigger this rise in population. Thus, the dependency burden is predicted to increase. The pressure would be most felt in Finland where, as per calculations, 50% of the population would be over 65 years of age in 2030. Other Nordic countries would exhibit a moderate increase in the dependency burden.
The Most Populated Nordic Countries
| Rank | Country/Territory | Capital | Population (2016) | Area (km²) |
| --- | --- | --- | --- | --- |
| 1 | Sweden | Stockholm | 9,875,378 | 447,420 |
| 2 | Denmark | Copenhagen | 5,707,251 | 43,561 |
| 3 | Finland | Helsinki | 5,488,543 | 338,534 |
| 4 | Norway | Oslo | 5,214,900 | 323,787 |
| 5 | Iceland | Reykjavík | 332,529 | 103,440 |
| 6 | Greenland | Nuuk | 55,847 | 2,166,086 |
| 7 | Faroe Islands | Tórshavn | 50,196 (2015) | 1,396 |
| 8 | Åland Islands | Mariehamn | 29,013 | 1,580 |
This page was published on August 2, 2016.

This page was last modified on April 25, 2017.