Economics
Minimum Wage By State
When choosing where to live, the minimum wage available is something to absolutely consider. District of Columbia has the highest minimum wage and Wyoming has the lowest.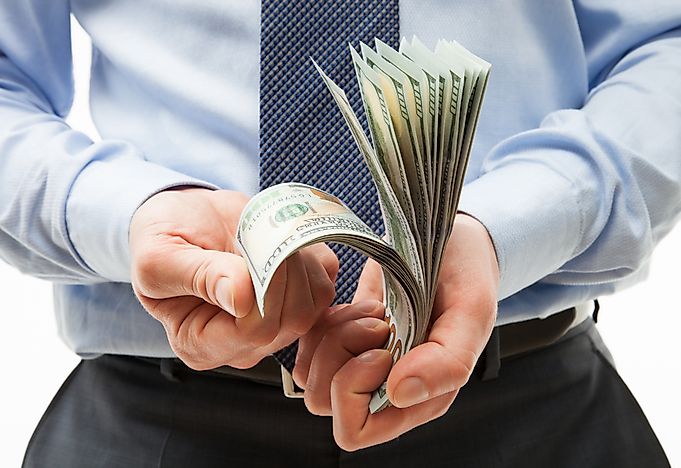 The implementation of a minimum wage law can be crucial in poverty stricken countries and a good advantage to higher developed countries. Minimum wages can help protect the rights of entry-level employees by giving them a foot to stand on when negotiating for a proper salary and it also prevents employers from exploiting the skills and services of entry-level employees. Minimum wage laws can also have great benefits to the economic factors of a country. By implementing this law, countries are able to develop more effectively because employees will have a chance to better their education due to the fact that they will have more time for studies due to reduced hours at higher fees. The crime rates of a country will also be reduced dramatically because those who suffer will no longer have to reduce to theft in order to survive because their basic needs will be taken care of through a minimum wage.
The downside
There are only three downsides to minimum wage laws. Employers, who would have paid more for the services of entry level employees, now use the minimum wage fees as guidance for what to pay and thus pay less than what they would have. The second downside of minimum wages is that employers who cannot afford the minimum law will often overwork employees in an attempt to cut costs. The third downside of these laws is that some entry-level employees who have no skills will find it difficult to land a job in which they will gain experience and abilities.
States without a minimum wage law
Not all states of the United States have a minimum wage law. Alabama, Tennessee, South Carolina, Mississippi and Louisiana have no minimum wage laws. This does not mean that low entry-level employees or the countries necessarily suffer. The economic factors of some countries are equipped enough for the country to function effectively without a minimum wage. They function on different laws and terms to protect entry level employees and their rights.
States with the highest & lowest minimum wage law
The states with the highest minimum wage laws are; District of Columbia - $9.5, Washington - $9.47, Oregon - $9.15 and Vermont - $9.15 hourly rates. The laws are also constructed to contain certain rules such as a maximum of 40 working hours per week to prevent exploitation of employees and to benefit safety conditions within companies which can occur as a result of over-exhaustion. These rules vary for each country. California, for instance, enforces overtime pay of work times that exceed 40 hours a week. Colorado, on the other hand, has these overtime rules for only retail, service, commercial support, food and medical instances. Some countries maintain a constant minimum wage rate and only adapt it every now and then while others such as Arizona, increases theirs annually based on a cost of living formula.

The two states in the United States with the lowest minimum wage rates are Georgia - $5.15 and Wyoming - $5.15 which is quite a huge difference from the higher rated states for the same country and is a significant indication to how people, government, climate and resources affect people living in the same country.
Minimum Wage By State
View information as a:
List
Chart
| | | |
| --- | --- | --- |
| 1 | District of Columbia | $9.50 |
| 2 | Washington | $9.47 |
| 3 | Oregon | $9.25 |
| 4 | Connecticut | $9.15 |
| 5 | Vermont | $9.15 |
| 6 | California | $9.00 |
| 7 | Massachusetts | $9.00 |
| 8 | Rhode Island | $9.00 |
| 9 | Alaska | $8.75 |
| 10 | New York | $8.75 |
| 11 | South Dakota | $8.50 |
| 12 | New Jersey | $8.38 |
| 13 | Nevada | $8.25 |
| 14 | Illinois | $8.25 |
| 15 | Colorado | $8.23 |
| 16 | Michigan | $8.15 |
| 17 | Ohio | $8.10 |
| 18 | Montana | $8.05 |
| 19 | Arizona | $8.05 |
| 20 | Florida | $8.05 |
| 21 | West Virginia | $8.00 |
| 22 | Maryland | $8.00 |
| 23 | Minnesota | $8.00 |
| 24 | Nebraska | $8.00 |
| 25 | Hawaii | $7.75 |
| 26 | Delaware | $7.75 |
| 27 | Missouri | $7.65 |
| 28 | New Mexico | $7.50 |
| 29 | Arkansas | $7.50 |
| 30 | Maine | $7.50 |
| 31 | New Hampshire | $7.25 |
| 32 | Utah | $7.25 |
| 33 | Virginia | $7.25 |
| 34 | Kentucky | $7.25 |
| 35 | Kansas | $7.25 |
| 36 | Iowa | $7.25 |
| 37 | Texas | $7.25 |
| 38 | Indiana | $7.25 |
| 39 | Idaho | $7.25 |
| 40 | North Carolina | $7.25 |
| 41 | North Dakota | $7.25 |
| 42 | Pennsylvania | $7.25 |
| 43 | Wisconsin | $7.25 |
| 44 | Oklahoma | $7.25 |
| 45 | Georgia | $5.15 |
| 46 | Wyoming | $5.15 |
| 47 | Louisiana | $0.00 |
| 48 | Mississippi | $0.00 |
| 49 | South Carolina | $0.00 |
| 50 | Tennessee | $0.00 |
| 51 | Alabama | $0.00 |