Politics
Franklin Pierce, 14th President Of The United States
Franklin Pierce found himself torn between his fellow Northerners and members of his own, pro-slavery, Democratic Party.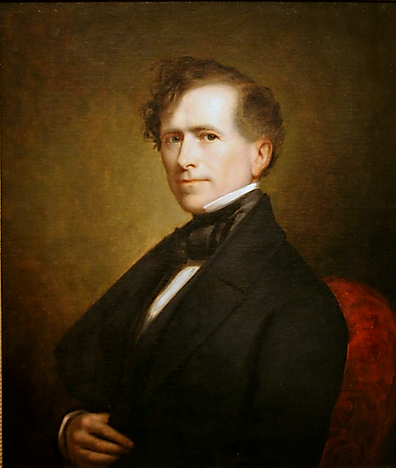 The Presidency in the United States is perhaps the most powerful institution in the whole world. This office is the highest political office in the US. The president is both commander-in-chief of the armed forces and head of state. He has the powers to make important appointments such as ambassadors, secretaries, and diplomats. However, some of his appointees like the Supreme Court judge must be approved by the Senate. In international relation, the president of the US through the Secretary of State takes control of all foreign affairs. He also has the powers to pardon offenders. Since 1789, US has been served by 43 presidents with the current president, Barrack Obama, being the 44th president. Some of the notable presidents include Franklin Pierce.
Early Life Of Franklin Pierce
Franklin served as US 14th president for four years from March 4, 1853, to March 4, 1857. He was born in 1804 from a descendant of Thomas Pierce in Hillsborough, New Hampshire. His father, Benjamin Pierce was elected twice as a governor of New Hampshire and was also a hero in the American Revolution. Franklin attended Hillsborough center school before being taken to a school in Hancock town. In 1824 he joined Bowdoin College where he studied law. He got admitted to the bar in 1827 and practiced law in Hillsborough where he lost his first case. Franklin got married to Jane Means in 1834, one of the daughters of former Bowdoin College president. In high contrast, Jane was always shy and abhorred politics. She also disliked Hillsborough forcing Pierce to relocate to New Hampshire. They had three children who all died in their childhood. In fact, their last son died in an accident which they were involved in few weeks after his election as the president.
Political Life Of Franklin Pierce
Franklin got elected in 1882 to the Legislature of New Hampshire at the very young age of 24 years and two years later becoming the Speaker of Legislature in New Hampshire. As a speaker, he offered the much-needed support to Jackson's re-election. He also supported the protection of militia and opposed the expansion of banking. Pierce was a member of the state military until 1847 where he attained the role of a colonel. In 1832 he was nominated by his Democratic party to the House of Representative. In 1836 Pierce was elected to the Senate at the age of 32 but in 1841 he resigned from the Congress. In 1852 Franklin Pierce contested the Democrats presidential nomination ticket where he won by a majority. In the same year's presidential election which put him against General Scott, who he served under during the Mexican War, Pierce won the popular vote. He became the youngest man to be elected president.
Legacy And Last Years
Pierce was a one term president. He lost the Democrats nomination to Buchanan largely because of his administration's position on Kansas-Nebraska Act. At the time of his leaving the nation was near a civil war. He moved back to New Hampshire and dealt in property and touring Europe. Due to his heavy drinking, his health deteriorated and in 1869 he passed on at around 4 am.
Franklin Pierce, 14th President Of The United States
| Party Affiliation | Democrat |
| --- | --- |
| Birthplace | Hillborough, New Hampshire |
| Date of Birth | November 23rd, 1804 |
| Date of Death | October 8th, 1869 |
| Start of Term | March 4th, 1853 |
| End of Term | March 4th, 1857 |
| Vice President | William R. King |
| Major Conflicts Involved In | None |
| Preceded by | Millard Fillmore |
| Succeeded by | James Buchanan |
| First Lady | Jane Appleton Pierce |
This page was published on July 21, 2016.

This page was last modified on April 25, 2017.