Environment
Biggest Islands In The Solomon Islands Archipelago
While most of the Solomon Islands archipelago belongs to the country of the same name, the largest island, Bougainville, is controlled by Papua New Guinea.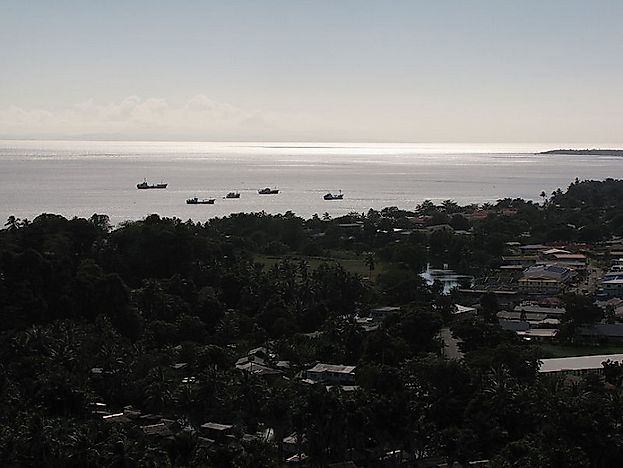 The Solomon Islands
The Solomon Islands are an archipelago located in the South Pacific Ocean, to the northeast of Australia. These islands include the nation of Solomon Islands as well as the Autonomous Region of Bougainville. These islands experience a tropical climate and monsoon season from November to March. Geographic characteristics range from mountains to rainforests to beaches. Many of the forests are threatened by deforestation. The archipelago is made up of several large islands and over 900 smaller islands, including volcanic and coral atolls. The biggest of these islands is discussed below.
Papua New Guinea
Papua New Guinea covers a land area of 3,598 square miles and is home to a culturally diverse population of over 7 million people. Inhabitants speak approximately 840 languages and over 80% lives on indigenous owned and administered lands. Only 18% of the population lives in urban areas. This island has the 6th fastest growing economy in the world, specifically due to a thriving mining and resource extraction industry. While this sector provides economic opportunity to the area, roughly 40% of the people dedicate their lives to subsistence farming. Tourism is not extremely developed here although the country is rich in biodiversity with over 4,600 vertebrate species making their homes here.
Guadalcanal
The Guadalcanal island encompasses an area of 2,047 square miles and is the main island of the Solomon Islands nation. The population here is approximately 109,382. Traditional farming methods are still employed here such as the slash and burn technique to cultivate crops such as yaro and sweet potato. Inland households typically raise pigs while coastal inhabitants rely on fishing. During World War II, Japanese and US troops fought over several weeks. The Japanese were eventually driven out. Today, visitors can still see old war relics. The only mammals on this island are bats, rodents, and the native grey cuscus. Many more bird species make their home here.
Malaita
Malaita island is made up of 1,663 square miles of land area. Approximately 130,909 people share the space divided between the capital, Auki, and the inland regions, referred to as the bush. The most commonly used languages here come from the Malaitian language family. Traditionally, and still practiced today, land ownership is determined through a person's family lineage. Subsistence agriculture plays an important part of the economy and typical crops include taro and sweet potato. Several ecological habitats can be found across the island depending on elevation. In all of these habitats, reptiles and amphibians are more common than mammals. The Malaita fantail bird is endemic to the island.
Santa Isabel
The fourth biggest island in the Solomon Islands archipelago is Santa Isabel. Part of the Isabel Province, this island has a land area of 1,158 square miles. The population is estimated to be around 26,158. Natives of the island were first contacted by Europeans in 1568 when Spaniards established a town. After their search for gold proved unsuccessful, the Spaniards abandoned Santa Isabel and established a settlement on the island of Guadalcanal. Approximately 8 tribal languages are spoken here in addition to English and Solomon Islands Pijin. The nearest airport is located on Guadalcanal island.
Other Solomon Islands
Other significant islands making up the archipelago include Choiseul at 1,147 square miles, followed by New George (786 square miles), Rennell (255 square miles), Buka (190 square miles), and South Malaita (186 square miles).
Biggest Islands In The Solomon Islands Archipelago
| Rank | Biggest Islands in the Solomon Islands Archipelago | Land Area |
| --- | --- | --- |
| 1 | Bougainville (Papua New Guinea) | 3,598 square miles |
| 2 | Guadalcanal | 2,047 square miles |
| 3 | Malaita | 1,663 square miles |
| 4 | Santa isabel | 1,158 square miles |
| 5 | Choiseul | 1,147 square miles |
| 6 | New Georgia | 786 square miles |
| 7 | Rennell | 255 square miles |
| 8 | Buka (Papua New Guinea) | 190 square miles |
| 9 | South Malaita | 186 square miles |
This page was published on September 12, 2016.

This page was last modified on April 25, 2017.